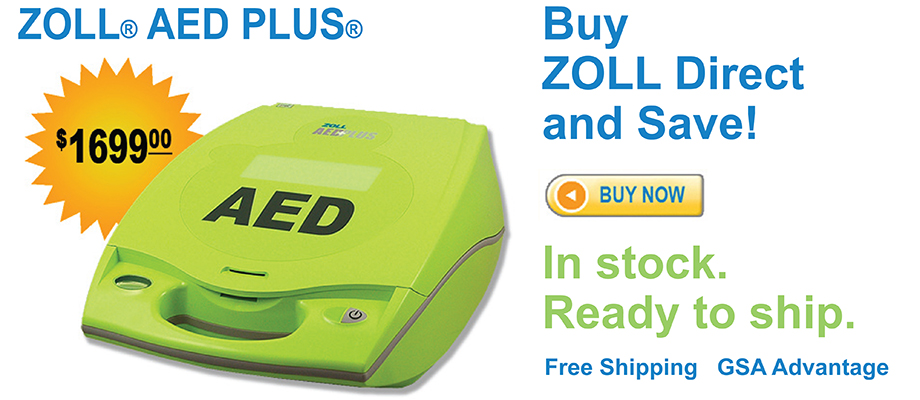 Real CPR Help

CPR Feedback, visual,
voice, and metronome
coaching for rate and
depth of compressions.

One-Piece Electrode Pad

For fast and accurate
placement. Five year
shelf life.

Economical

The only AED to use
inexpensive consumer
lithium batteries.

Biphasic Waveform

Clinically superior to
monophasic waveforms.
The AED that interacts with you!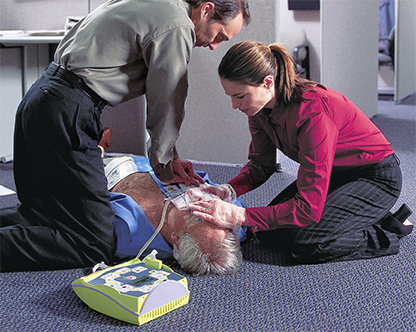 All AEDs deliver life-saving shocks. Some provide CPR coaching. Only ZOLL AEDs help you provide quality CPR with exclusive Real CPR HelpTM, a single-piece CPR-D electrode pad, and text, voice and picture prompts to guide you every step of the way. Consumer batteries (as opposed to a proprietary battery pack) and a 5-year shelf-life on the CPR-D Padz makes maintenance a breeze... and gives the ZOLL AED Plus one of the lowest costs of ownership in the industry.
Real CPR Help
A ZOLL exclusive, the AED Plus "watches" your chest compression style and helps makes sure you're pressing hard and fast enough. A sensor inside the CPR-D Padz feeds depth information to the AED which tells you to either "press harder" or continue with "good compressions."
CPR-D Padz
Another ZOLL exclusive is the one-piece electrode pad. It makes for simplified electrode placement compared to the usual two pad system and fits 99% of the patients you might encounter. So what about the other "1%?" The CPR-D Padz are adjustable to fit those patients with anatomical variation, too. If you prefer, standard two-piece electrode pad sets are optional.
Voice, text, and pictures
Only the ZOLL AED Plus offers a "triple play" of prompts to help you do it right.
Voice prompts calmly and clearly tell you what to do.
Picture prompts reinforce the spoken words.
Text prompts are there for you when emergencies happen in noisy environments.
The ZOLL AED Plus has them all.
Excellent durability
The ZOLL AED Plus is sealed extremely well against moisture and dust. It has an "IP" rating of 55. That means it's at home inside your office as much as it is in more demanding environments. It works well in transport use, too.